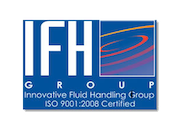 We're proud to partner with The IFH Group, Inc, which provides a comprehensive line of industrial fluid storage and handling systems that store product close to the work area and cut handling costs by up to 80 percent.
Ease of product flow cuts retrieval time up to 50–70 percent over drums or pumps. There is no drum tipping, pump cleaning or switching, and no major pump replacement costs.
Users Save Money While Saving Time and Space.
Fluid Handling Systems
The IFH Group designs and manufactures fluid storage and dispensing equipment for:
Lubricants
Oils
Chemicals
Other industrial fluids.
The company occupies a modern 106,000-square-foot manufacturing facility in Rock Falls, Illinois, and a state-of-the-art 80,000-square-foot facility in Arlington, Washington. The IFH Group maintains an extensive ISO:9001 certified manufacturing facility for the fabrication of tanks, reservoirs, frames, cranes, trailers, vehicle chassis and virtually any kind of fabricated metal assembly.


The IFH Group utilizes the latest in manufacturing technology, test equipment, measurement analysis and assembly equipment and combines it with advanced engineering and information management software to provide innovation, service and value for all LubriSource customers.