Dyna-Power is a manufacturer of single and dual line measuring valves for automatic lubrication systems. With Dyna-Power's measuring valves, LubriSource provides the ability to distribute precise amounts of lubrication to a lubrication point in a dual or single line system.
When a pump is activated, lubricant is pumped from the reservoir to a valve that directs it to one of two supply lines, and onto the lubrication point via meters which measure specific lubrication amounts.
LubriSource offers the highest quality measuring valve for both single line and dual line operations.
Dual Line Measuring Valves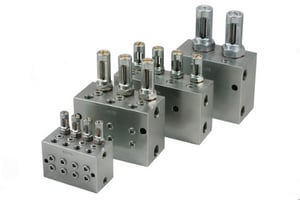 In dual line systems, metering valves operate independently, preventing the inoperability of the overall system.
Also, each measuring valve features indicators which indicate the individual valve's proper function, allowing problem valves to be easily identified in a quick and reliable way.
As a partner of Dyna-Power measuring valves, LubriSource is proud to provide cost effective lube filtration with a product that's built to last and built to perform. With top quality measuring valves made from heavy-duty components, you can count on LubriSource to lower your equipment and operation costs and boost efficiency.
Our technicians can develop a customized lubrication program specific to your needs that can help increase equipment uptime while saving costs. Contact one of our lubrication specialists to learn more.