GP Reeves is a leading global provider of engineered dispensing systems and manufacturing solutions. With a complete host of accommodating applications, LubriSource provides a low maintenance, highly repetitive manufacturing system via GP Reeves' patented processes and complete line of grease, oil, ambient applied, and heated material dispensing equipment and automation.
Manufacturing Lubricant and Oil Equipment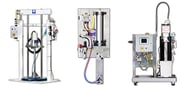 Lunrisource's auto-fill grease reservoir/regulators from GP Reeves allow grease to be stored and to reduce grease pressure. Engineered for use with NLGI 000 through 2 grease, these grease reservoirs/regulators are equipped with relief valves, air pressure regulators with gauges, and are capable of handling up to 3000 psi primary grease pressure and regulating it to provide 1000 psi or less secondary grease pressure. These also include an air pilot operated fill valve.
FIFO (First In – First Out) reservoirs minimize separation of unstable grease. Other less common choices include Semco cartridges and universal 14.5 ounces (grease gun)
cartridges.
Lube Logic Automation Lubricant

LubriSource uses real oil lubricant from GP Reeves, excellent for conveyors and chains used in factories or warehouses with various needs, temperatures, and applications, including roller chains, oven conveyors, paint finishing systems, E coat systems, powder coat systems, lithographic chains, food and beverage can coating lines, tenter frames in textile plants, kiln car wheel bearings, refractory plants, paint lines, and more.
Conveyor and chain lubricators
Conveyor and chain lubricants
Grease and oil flow sensors
Grease spray nozzles
Production grease dispenser