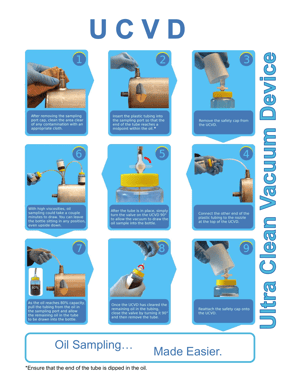 Condition monitoring and oil analysis go hand and hand! Here at LubriSource we're committed to being your reliable partner for automated lubrication system equipment, centralized system design, installation, and maintenance.
In staying true to our mission, we strive to always look for opportunities to innovate and create solutions for the lubrication industry. We know that condition monitoring in your equipment and oil analysis go hand and hand and saw a need for improvement in that area. That is why we recently partnered with an Italian company to bring a unique oil sampling collection bottle to the US market!
Through this collaboration we are pleased to offer UCVD (Ultra Clean Vacuum Device) bottles to help streamline your oil and fluid sampling process. UCVD bottles offer a simple, easy-to-use and portable solution to collecting oil and fluid samples. The bottles are 100ml and use a patented, vacuum technology that keeps your samples free from contamination and tampering until the sample reaches the lab.
UCVD BOTTLES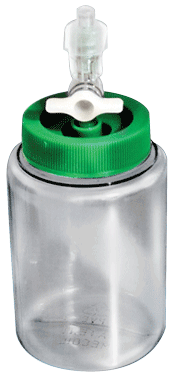 There are several benefits to using Ultra Clean Vacuum Device bottles. For example, the bottles sharply reduce the biggest factor in oil/fluid sampling errors; which is improper oil sampling collection procedures. Independent surveys claim that the "sampling procedures" are responsible for more than 70% of analysis errors.
Not only do they cause for more accurate condition monitoring, but the bottles also make for a cleaner and safer process. Each UCVD bottle and lid are vacuum sealed to offer further integrity to its cleanliness before use.
They are extremely easy to use and unlike glass bottles there is no need to open it's cap. Instead, the operator can simply insert one end of the tubing into the oil/fluid and connect the other end to the UCVD stem that opens the valve. The patented vacuum then draws the oil/fluid into the Ultra-Clean bottle, and when finished, the bottle valve is closed and the cap is replaced.
We currently offer these bottles in boxed sets of 10 which includes bottles, lids and, 32-inches of nylon tubing and labels for $60 a box!
UCVD bottles make the oil sampling process a breeze and you can add them to your inventory today.
Contact us to place your order and make your oil sampling collection process that much easier!