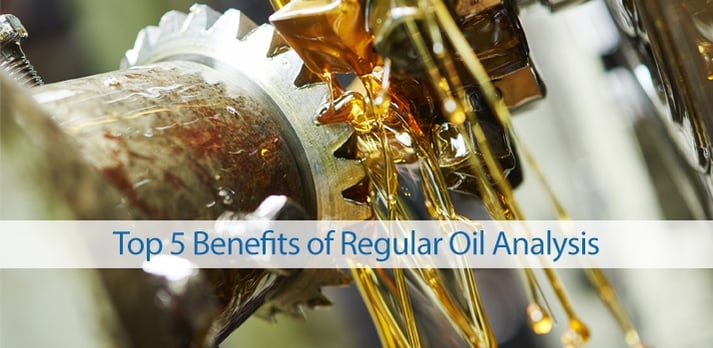 Performing regular oil analyses on your lubrication system provides valuable insights into the operating levels of your machines and the lubricant running through them. Without proper and consistent analysis, you are leaving the efficiency of your equipment to chance.

Because lubrication plays such a vital role in keeping your plant running its best, taking proper care of your lube system means you are caring for your entire plant's operations.
Studies have shown that improper lubrication leads to:
43% of mechanical failures

54% of bearing failures

50% of roller bearing damage

70% of equipment failures
Establishing a regular oil analysis program is key to avoiding component failures and keeping equipment in the best shape possible. From detecting fuel and coolant leaks to determining additive levels, consistent oil analysis can diagnose a variety of issues that help you prevent breakdowns and failures.
One of the top benefits of oil analysis is that the data you uncover steers you toward solutions that eliminate lubrication issues. Here are five more benefits of scheduling routine oil analysis for your equipment:
1. Detailed Breakdown of Lubricant Performance
Comprehensive analysis of the oil in your equipment provides a detailed breakdown of your lubrication system's performance. This overview can pinpoint problem areas based on contaminant type and indicate what problems may arise from the contamination.
Some contaminants can cause major problems when not detected early. Certain metals, such as aluminum and iron, may indicate piston or cylinder damage. Water or antifreeze leaks cause major issues down the line, specifically putting strain on the whole machine as it tries to push the thickened oil through. Detection of water can also be indicative of broken seals or that the equipment is not running at the optimal temperature.
2. Find Problems Before They Occur
Knowing ahead of time that an issue may occur with your equipment can save time and money. Oil analysis provides an in-depth view of the lubricant in your machinery. With consistent oil testing, small issues can be identified and dealt with before they become big problems.
Certain types of wear in specific areas of the equipment are detected through oil analysis. Issues with the filtration system, such as combustion soot contamination, can also be identified. Improper filtration causes multiple issues for your machines that can lead to extensive - and expensive - repairs.
Pin-pointing potential problem areas can save time and money when you can stop problems in their tracks.
3. Fewer Repairs and Less Down Time
Most big problems with machinery start small and grow increasingly worse over time. Larger problems often require extensive repairs and often include significant downtime for your equipment and your business. When your plant isn't running at full capacity, your business isn't earning at its full potential, either.
Through regular oil analyses, high levels of wear metal that signal internal parts breaking down can be detected early. Escalating trends in particle counts, additive levels and even viscosity are indicative of external or cross-contamination.
From outside contaminants to internal issues such as coolant leaks or wear of machinery, regularly scheduled oil testing provides advanced notice of impending malfunctions. In-depth testing provides key insights regarding the healthy operation of your machines. By regularly analyzing the lubricants in your machines, you will catch issues earlier and be able to fix problem areas quickly and efficiently before extensive repairs and unplanned downtime are needed.
4. Longer Lasting Equipment
Regular checkups and maintenance greatly increase the useful life of your equipment and foster increased productivity for all your plant's operations. Early detection through oil analysis is not only useful for preventing large repair bills or loss of production - it can also improve the overall operating status of your equipment and help your machinery last longer.
Better running, longer lasting equipment means fewer repairs over the life of the equipment. It also means higher efficiency and less frequent replacement of component parts in your equipment. These benefits save money and keep your business moving forward.
5. Cost Savings

Oil analysis can help your machinery run smoothly and your business stay strong. According to Machinery Lubrication, medium-sized plants that establish effective oil analysis programs experience typical internal rates of return of about 150 percent with a net present value over five years of $500,000.
At the end of the day, it all comes down to cost. Improving operating efficiency and experiencing fewer repairs and less downtime all positively affect your profit margin. Contact us to learn more about how establishing a program of routine oil analysis also saves you money in high-cost repairs and component replacements.