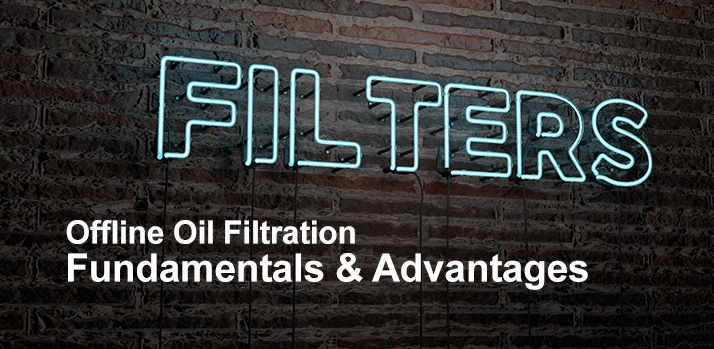 Industrial lubricant cleanliness has a direct impact on equipment life and the efficiency of your manufacturing operation. Portable offline oil filtration is a useful decontamination solution for transfer of new fluids into your system, oil recycling, acute contamination treatment, or as part of a scheduled maintenance program. Moreover, equipment such as kidney loop filtering units are put into full-time service and their benefits extended as integrated, permanent solutions. Whether portable or permanent, lubrication maintenance technicians are more commonly relying upon the convenience, effectiveness, and versatility of offline filtration for optimal fluid cleanliness.
How Offline Oil Filtration Improves Your System
An added degree of lubrication cleanliness - Independent of the main lubrication system, offline filtering units provide isolated treatment of fluids before they are introduced back into the equipment. While still providing continuous flow, this extra stage of filtration ensures particulates and water aren't being continuously circulated through engine systems, gear reducers, and oil reservoirs. This ensures a high degree of lubricant cleanliness that reduces premature wear of machinery and optimizes equipment performance - particularly critical if your main filtration system is overburdened or under-maintained.
Enhanced best practice for fluid transfer - When introducing new fluids into your lubrication system, you can't take for granted the cleanliness of the material in the barrels you receive. Faulty seals, improper storage, or poor handling may have exposed the lubricant to contamination somewhere along the line. Utilizing an offline filtering unit during transfer ensures optimal cleanliness of the new oil going into your system.
An additional opportunity for lubricant inspection - Even with a well-run lubrication maintenance program, there's always a risk of contamination. Inadequate storage and handling, particulate deposition, or an improper reservoir size that encourages condensation increase the likelihood of contaminants in your fluids. Keeping an eye out for signs of contamination and monitoring debris and moisture levels are essential for keeping your equipment in good operating condition. Offline filter media can be easily inspected for signs of debris, internal component wear, and peaking moisture levels, which will reduce the occurrence of failing machinery and interrupted productivity.
Offline filters can be portable or permanent – The benefits of portable offline filtration carts are already well-known. They can be moved from station to station as-needed and conveniently removed from the manufacturing floor when not in use. Although portable units are best suited to condition-based operation, where space does not permit permanent installation, portable units still provide the benefits of enhanced fluid filtration. However, these benefits can be short-lived when other contamination factors are at play. For this reason, many facilities are opting for permanent installation, when possible, for longer-term optimization of fluid cleanliness.
Offline filtration units can be run continuously or as-needed – Kidney loop filtering systems, whether portable or permanent, can be run continuously or intermittently. They can also be in operation while the system is in use or during equipment downtime. The benefit of running them when equipment is offline is continual cleaning and polishing of lubricants to mitigate the potentially contaminating side-effects of stationary fluids.
Kidney loop filtration units are increasingly preferred
Kidney loop systems are complete units with their own motor, pump, and filter. This prevents pressure fluctuations of the main lubrication system from interfering with filtering efficiency. Particulates remain suspended in the filter, ensuring that they are not introduced back into the system.
These filtration systems are available as single stage or dual stage filtering solutions. The first filter removes large particles and/or free water, while the second filter removes fine particulates before the fluid is reintroduced into the machinery. Kidney loop systems are highly customizable, ensuring target cleanliness levels are reached by accommodating many different filtration elements for use with a variety of lubricants. Additionally, kidney loop units can be fitted with contamination sensors and a heater for improved flow in cold environments.
"Kidney loop systems are highly customizable, ensuring target cleanliness levels are reached by accommodating many different filtration elements for use with a variety of lubricants."
Things to consider
If utilizing a portable offline filter system, you'll either need to thoroughly clean the system and replace the filters when switching between fluid types. Alternatively, you can purchase a separate unit for each oil type and designate them for exclusive use.
Whichever unit you choose, be sure to purchase the correct filter size for the job. Otherwise, you could find yourself under-utilizing or over-utilizing the filter's capacity, which leads to unnecessary consumable waste or equipment damage. Filter size is designated by target cleanliness level, flow volume, and flow temperature.
We're here to guide you in selecting the right offline filtration equipment for your needs. Whether portable or permanent, offline filtration systems are affordable solutions for reducing lubricant contamination. Contact us today to learn more about how offline fluid filters extend the life of your manufacturing equipment, reduce operation downtime, and lower facility maintenance costs.