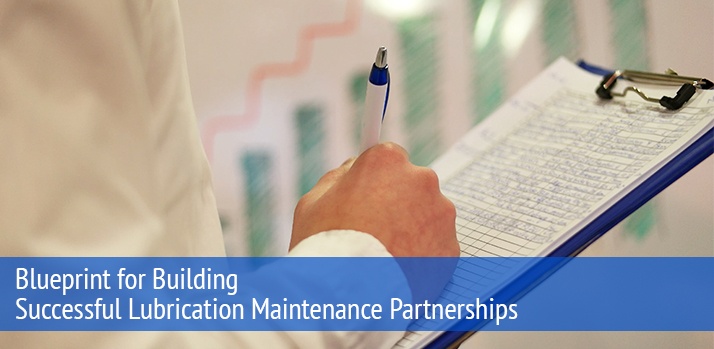 Your plant's success depends on every person involved in its operations and maintenance, including contractors. Whether you've hired third-party professionals to supplement your workforce during a scheduled maintenance downturn, or you've added contractors to your team permanently, their efforts and competencies help fuel your entire team's progress.
Partnering with service providers to manage certain plant activities is growing in popularity. Collaborative working partnerships are gaining traction in areas as diverse as sanitation, security and maintenance. As an article in Reliable Plant puts it, "Outsourcing is here to stay. In fact, it's likely to become the norm rather than the exception."
Partnering with Certified Lubrication Specialists
Certified lubrication specialists are able to develop a precision lubrication program that generate cost savings in many ways, including:
Timely oil analysis that may reveal metal particles pointing to exhausted bearings.

Analysis of new lubricants to ensure they are pure and up to spec.

Periodic equipment inspections that may reveal new sources of lubricant contamination.

Operator error that may be an issue on occasion.

Equipment inspections that may show evidence of parts that need replaced.
Foundations for Long-Term Success in Collaborative Relationships
Partnering with lubrication experts delivers tangible savings to your plant via reduced downtime and maintenance costs. It's important to explore the foundations of your collaborative working relationships to understand what factors produce long-term success. Establishing an effective blueprint for implementing and maintaining collaborative partnerships helps make the integration of your current staff and third-party professionals seamless and trouble-free.
Establish Open Channels for Consistent Communication
Communication is vital to maintaining safety and improving operations In a manufacturing plant.

In a survey by Machinery Lubrication, 56 percent of lubrication professionals said there are poor lines of communication between front-line workers and management at their respective plants. The effects of poor communication can seriously sabotage improvement efforts when they spill into your relationships with contractors. Poor communication can lead to manufacturing mistakes, production delays, and employee injury.
From the start, contractors should be aware of the overall framework of your plant's operations and understand their roles within it. The employees contractors are working with also need to understand the functions contractors are performing. This is when the question of "why" is very important to explore. Why do you need to do things in this manner? Why are you outsourcing your maintenance needs? Being able to answer why to your employees and to your working partners is essential for fostering mutual understanding.
Effective communication becomes of the utmost importance when your team is managing your plant's maintenance shutdown. You may need to supplement your staff with numerous specialists in multiple departments during a shutdown, a process that can often increase your workforce by up to 300 percent. As we pointed out in our post Strategic Staffing During Downtime Maintenance, clearly explaining the roles and responsibilities of everyone involved during downtime maintenance is a crucial element for a successful plant turnaround.
Regularly Scheduled Meetings
Many mishaps are due to a simple misunderstandings or omissions of information. Performance reviews are valuable opportunities for feedback and suggestions. Meet and discuss performance on regularly.
Also schedule quick meetings with contractors before and after shift changes to keep the lines of communication open daily. When contractors know they will soon be able to discuss their concerns with you, it encourages them to bring any issues they uncover, no matter how seemingly insignificant, to the table. This provides opportunities to detect and clear up misunderstandings before they have a chance to wreak havoc on your production.
Clearly Define Expectations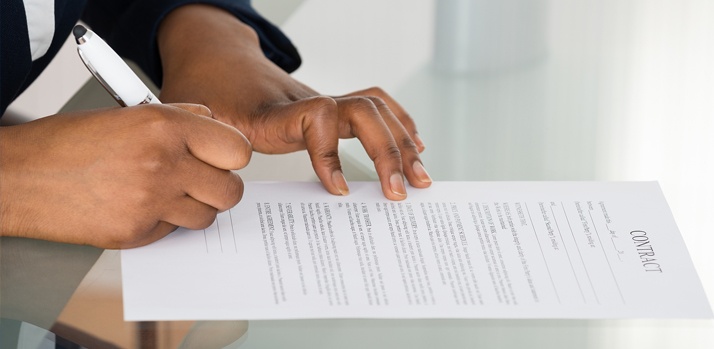 There will be expectations on both sides of the relationship. A clearly written contract should outline the scope of contracted services, including:
Job Roles:

Decide which tasks are performed by in-house technicians and which are to be completed by contractor personnel

Supplies:

Are job supplies ordered in-house or provided by the contractors?

Compensation:

Define when and how payment is rendered

KPIs:

Establish how performance and success will be measured

Changes:

List steps required for making changes to procedures or expectations
Determining appropriate lubrication protocols and establishing a regular schedule for lubrication services are additional considerations for defining job roles and expectations with lubrication service providers.
Lubrication Protocols
Ideally, every machine should have a specific lubrication protocol that includes thorough documentation. When a lubricant contractor takes on these responsibilities, protocols are appropriately established and carried out. The reality is that the annual cost to run a motor often exceeds its initial cost. Therefore, it is vital that a certified specialist examine, in exacting detail, its lubrication needs.
In many instances, bearing, pump and other manufacturers provide life cycle information about their product, making it possible to compare failure rates with expected outcomes. Lubrication specialists are able to trace component failures to lubrication deficiencies. With expert analysis, corrections can easily extend the life cycle of expensive parts and/or those that cause costly downtime when they fail.
Regular Lubrication Service
Plants that enter into monthly, quarterly or semi-annual contracts for all their lubrication requirements enjoy true peace-of-mind. Systematic oil analysis, regular equipment inspections and timely parts replacements occur as needed. A sense of control comes with embracing forward-looking, predictive and proactive procedures.
Ideally, the installation of a precision lubrication program is a "turn-key" process. For example, a lubrication specialist takes care of all programming and system startup needs. An outsourced lubrication contract can allow a plant manager to essentially "set it and forget it." That is, set the lubrication program in motion and let the specialists take care of virtually everything. This frees management to focus on the essentials of the operation.
We've learned that lasting partnerships require dedication and a commitment to collaboration. The resulting trust that develops creates an open atmosphere where team members can confidently work together to come up with the best possible strategies for success.
LubriSource offers comprehensive lubrication services to efficiency-minded enterprises in diverse industries. We'd welcome the opportunity to learn of your unique lubrication needs and challenges. Please contact us today.