Make the Most of Your Plant Shutdown!
Start by scheduling your FREE one-hour Lubrication Maintenance Needs Analysis from the professionals at LubriSource who are adept at providing detailed, high-quality precision craftsmanship in lubrication maintenance.
Accomplish more during downtime by: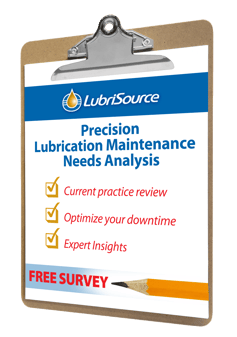 Supplementing your maintenance team with experienced, knowledgeable professionals who possess the high-tech skills required for superior lubrication maintenance practices


Gaining the manpower you need to fully access your facility's often overlooked and hard-to-reach areas where unique opportunities to improve operational efficiency lay hidden
What's included in Your Customized Maintenance Needs Analysis Report?
During your one-hour survey, one or more of our highly-trained Precision Lube Maintenance Technicians will come to your site and:
Assess your current lubrication maintenance practices.

Measure them against the 4 R's - Right Lubrication, Right Amount, Right Time, Right Procedure
Identify necessary repairs
Inspect all exposed lines
You get a 2-3 page Maintenance Needs Analysis Report full of expert insights into how you can use your maintenance downtime to enhance your lubrication practices.