LubriSource is proud to partner with Simplo to offer simple-to-use oil sample bottles. These Ultra Clean Vacuum Draw (UCVD) sample bottles make it possible to get a clean, contaminant free oil sample every time. The UCVD vessel was created to avoid the most common mistakes that occur during the oil sampling procedure.
Simplo Oil Sampling Bottles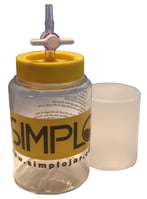 With oil analysis, results depend mostly by these sample collection procedures. In fact, independent surveys claim that sampling procedures are responsible for more than 70% of errors in oil analysis.
Learn More About the Simplo Vacuum Bottle Oil Sampler:
Read: "Industrial Oil Analysis Innovation Reduces Cross Contamination During Sampling" and potentially Receive A Free Oil Test from LubriSource.
Vacumn Clean Oil Test Samples
In all the links in the oil sampling chain this getting uncontaminated oil testing results is the most critical step, necessary to perform the best possible oil testing. Simplo Oil Sampling bottles not only accommodate these imperative criteria for clean and accurate oil testing methods, they are also cost effective and easy to use!
Contact a knowledgeable LubriSource representative to discuss any part of your Industrial lubrication needs from replacement parts to full automation design and installation. The LubriSource team is standing by.